It's amazing what you can achieve with a little help from a fantastic team of builders, family members and friends - meet them all below:



Olivier Sire & Jerome Billaud - masonry builders/roofers from SARL Billaud Sire - Coëx.
Affectionally knicknamed Asterix and Obelix, their advice has proven very useful on many occasions.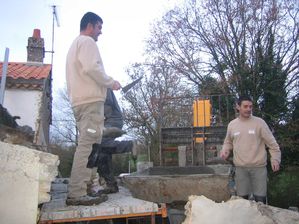 Gerald Chopin & his team Sammy and Julien - carpenters from SARL Chopin - Coëx.
They coped with the roughest weather conditions (teaching Stephen some very handy French expletives in the process!).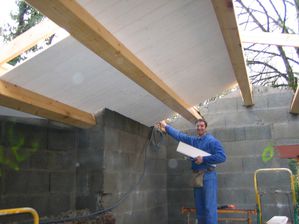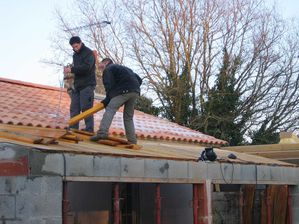 Michael Thibault and Alexis - heavy plant machinery experts from SARL TP Thibault - Coëx.
If it digs, lifts or crushes, they love it! Like Hannibal before them, grass stops growing where they've been...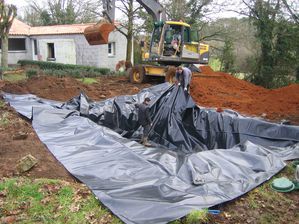 Remy Gauvrit & son - plumbers from SARL Gauvrit - La Chapelle Hermier.
Somewhat camera-shy but definitely not work-shy. Have been spotted working in hail, on Saturdays and even during their lunch break!



Ivan Klienkoff - neighbour and DIY expert - (higher) La Ruette
He is as lethal with a trowel as the Russian automatic rifle of the same name (or nearly). Always happy to give us a hand, he never fails to cheer us up with his unique sense of humour!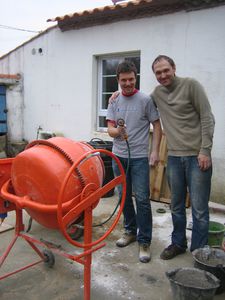 Mike Brunsdon - carpenter extraordinaire from Quedgeley, Gloucestershire.
Knows a nice nogging when he sees one and enjoyed putting them up in the bathroom or "the cage" (some would say it's the best place for him!).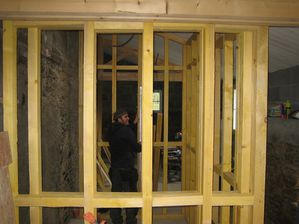 Late-comer in the project, Freddy Bougy (and partner) - tiler from Commequiers.
Ensured our italian showers are draining away perfectly whilst winning top prize in the La Ruette Mr Hot Builder award! Ladies, don't hesitate to contact me for his telephone number...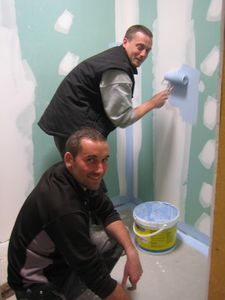 The Cooper clan - Stephen and his brother Paul who thought he was coming to the Vendée on holiday... Still, plenty of sunshine to be had on top of the roof!
Stephen's hair seems to be turning grey from it all or is it just ciment dust?
And Carine - enjoying her new foreman role (check out the hard hat but where is the clipboard?!?).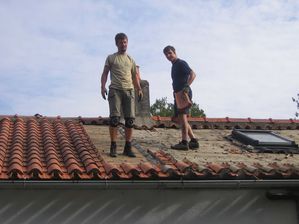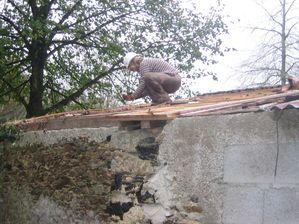 Daddy Equeter - our electician and master of spaghetti junctions. Like very fine French wines, he is improving all the time so at 75, he is our bright "spark"!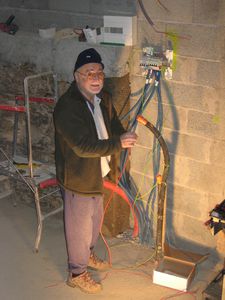 And of course Elliot - always on hand to entertain and put a smile on the most strained faces. Gloves missing, tools misplaced? Look no further but try and catch him if you can!